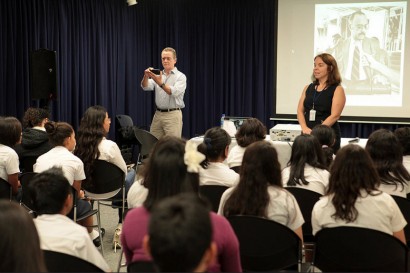 SAN SALVADOR, El Salvador, 17 September 2014 — I conducted a presentation at the US Embassy for a group of young Salvadorans who belong to the Glasswing Journalism Club. We discussed "citizen journalism" and how members could address their issues by using smart phones and the Internet.
What a fascinating group of young people with riveting questions. My favorite question was: "What causes conflict?"
Seen in the photo above is Embassy Information Officer Molly Sanchez-Crowe, who arranged my five-day visit.
(All photos courtesy US Embassy.)