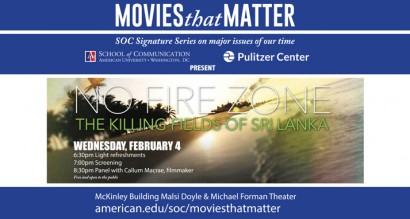 WASHINGTON, DC, 24 January 2015 — What to do with your film once it's finished?
In conjunction with the Pulitzer Center on Crisis Reporting, American University's School of Communication is hosting award-winning British filmmaker Callum Macrae for a screening of his film, "No Fire Zone." After the screening, Macrae will discuss how he's turned the film into a campaign to create awareness about some of the worst human rights violations of our time.
(AU recently became a member of the Pulitzer Center's Campus Consortium. See http://www.american.edu/soc/news/International-Reporting-Fellowships-to-Flow-from-Pulitzer-Center-Partnerhsip.cfm)
Macrae's film examines the Sri Lankan civil war and the government's final assault against Tamil Tigers. His investigation into atrocities against civilians during this assault, and his ability to weave what he uncovered into the film, resonates with students, faculty and filmmakers across a wide spectrum of interests. Besides the film's subject matter, Macrae's effort to raise awareness of those atrocities addresses the debate surrounding international relations, traditional journalism vs. "advocacy" or "campaigning" journalism, and other compelling points of discussion.
See http://pulitzercenter.org/projects/sri-lanka-kilinochchi-civil-war-human-rights-justice-tamil-tigers for Callum's Pulitzer Center-supported project page for additional details.
On the evening of Wednesday 4 February, Macrae is scheduled to show his film in the SOC's Forman Theater and to participate in a panel discussion. For specifics on the event, see http://pulitzercenter.org/event/american-university-callum-macrae-no-fire-zone-sri-lanka-civil-war-crimes-civilian-casualties.
Please join us for light food and refreshments before the event, which is free and open to the public
For questions, contact me at [email protected].
Best regards,
Bill Gentile