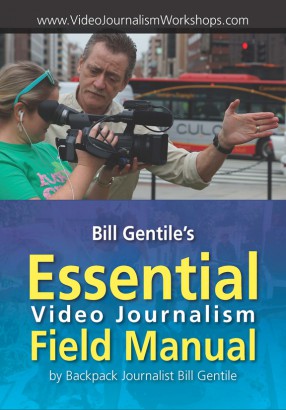 Here's a review posted recently on Amazon.com by Ellen Clegg regarding my Essential Video Journalism Field Manual. Ellen is Executive Director of Communication at the Boston Globe.
"Bill Gentile, a renowned still photographer for UPI, Newsweek, and other outlets, is also a pioneer in video journalism. This field guide distills the lessons from his intense, hand-on workshops in Washington, D.C. The book covers the basics of his character-driven, intimate style of video journalism — it's run and gun with heart and soul. Gentile covers everything from his six-shot system to ethics in the field to building a social media profile. His direct, energetic teaching style comes through, and he shares a few pertinent war stories along the way. He also provides numerous examples of scripts, treatments, and pitches, and introduces the reader to the basics of handling sound and narration. All in the interest of story, of course. In an era of too much content that skimps on storytelling, Gentile's work, and his teaching, are refreshingly compelling."
You can see this, and other reviews HERE.