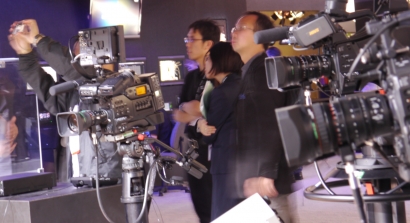 WASHINGTON, DC, 16 April 2011 — I get questions on equipment all the time. What camera should I buy? What kind of backpack do I use? What about that data transmitter I saw in one of your videos?
The latest equipment query was about the HDSLRs, which look like still cameras but shoot video as well. In response to this query, I wrote a version of the following, which you might find useful:
We published a long review of the HDSLR issue on American University's Backpack Journalism Project web site: http://www.american.edu/soc/backpack/Roach-Engel-1.cfm. This piece was done by a colleague of mine in conjunction with a graduate student at AU. I think it's pretty comprehensive and would suggest you take a read. In a nutshell, I think these cameras can be useful when their capacity to control depth of field adds an important component to content. But too many journalists and filmmakers, I believe, get caught up in new technology at the expense of content: The Story. For my type of work, in particular, the add-ons necessary for acquiring decent sound are an impediment to the kind of run-and-gun stuff that I generally produce. I was just out at the National Association of Broadcasters (NAB) convention in Vegas a week ago and Sony had some new cameras that were affordable, HD, compact and that delivered superb imagery and sound. I'm also familiar with the Panasonic HMC-150, which is a nice …  solid camera. I hope this helps.
Above, visitors to the Sony display look over an array of new cameras during the National Association of Broadcasters (NAB) convention in Las Vegas.
(Photo by Bill Gentile.)