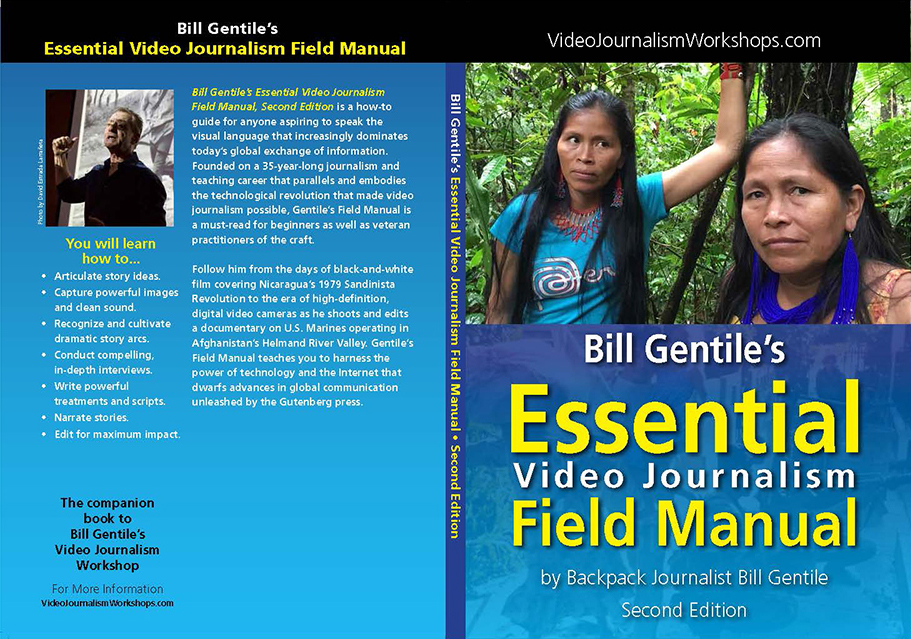 CHICAGO, 3 June 2016 – I'm delighted to report that I'm working on the 2nd Edition of my Essential Video Journalism Field Manual. This image of the front and back covers is a work in progress.
I shot the photo on this edition's front cover in 2015 while on assignment in the Ecuadoran Amazon for American University's (AU) Center for Latin American and Latino Studies (CLALS). In addition to the cover photo, I shot a short film, "When the Forest Weeps" – both with an iPhone 6+. You can see the film here: https://www.youtube.com/watch?v=Wgqh6PGw1lg
In the new manual, I discuss why I decided to take the iPhone instead of a bigger, heavier, more expensive piece of equipment. The new edition also includes information on how to use the iPhone to make movies, as well as the script to the Amazon film.
Included in the 2nd Edition will be a completely new, bonus section by internet marketer Bruce Jones on establishing a presence on the web and selling videos online. Bruce and I have been working together since 2008, when he attended my first Video Journalism Workshop in Silver Spring, MD. We've been collaborating on a number of projects since then, including many of my workshops in the United States and overseas.
I plan to put this 2nd Edition to bed before the end of this month, so I can turn my attention to a Spanish-language version. That's right. I'm publishing a Spanish-language version that I'll use this Fall, when I teach the first-ever, all-Spanish class to be offered by AU's School of Communication.