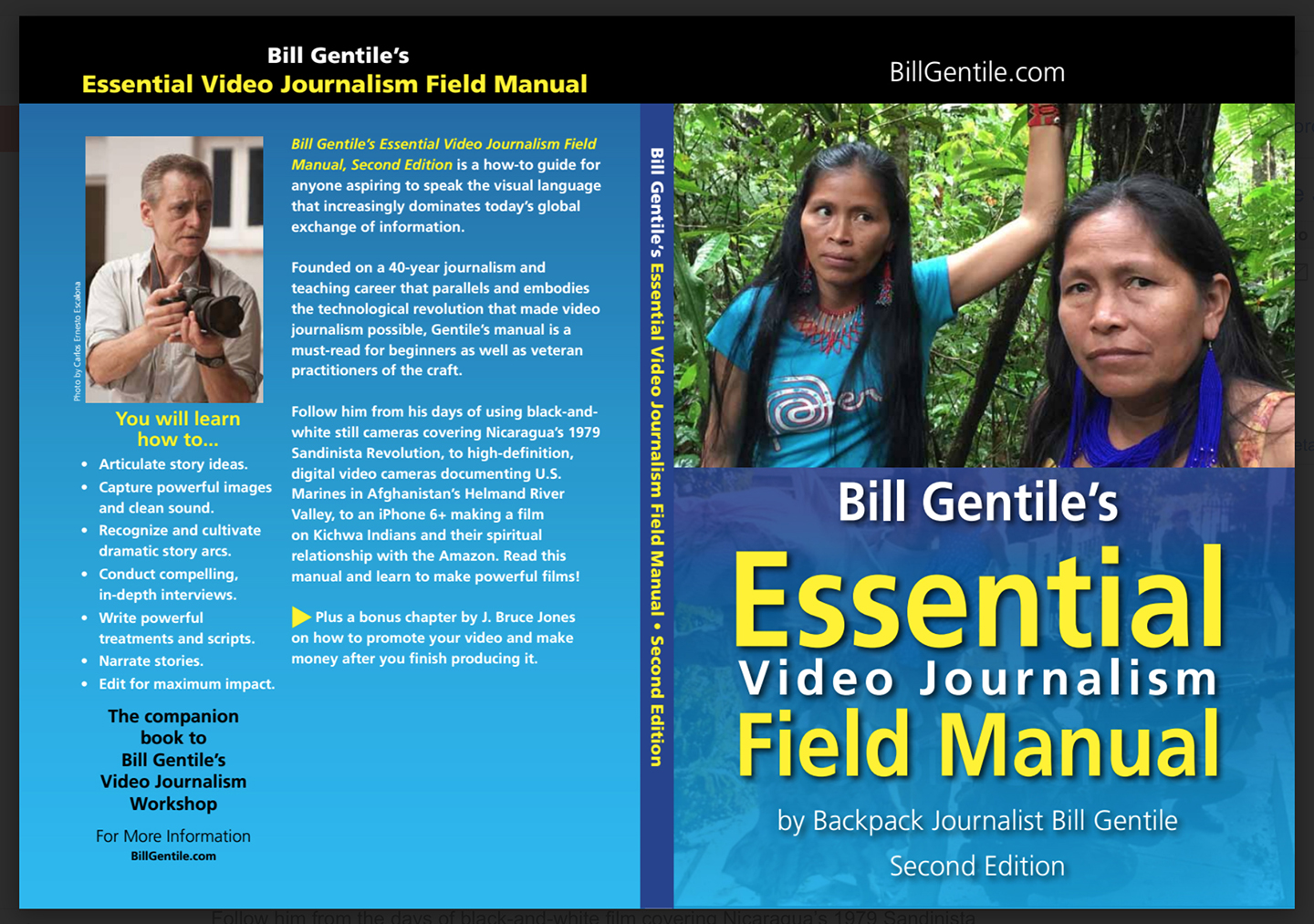 WASHINGTON, DC, 5 November 2016 — Get a FREE copy of my Essential Video Journalism Field Manual, Second Edition! Join us on December 8-11, 2016, for a Backpack Video Journalism Field Manual in Washington, DC. For details, click HERE.
My Field Manual covers the full range of skills required for effective visual storytelling—from idea development and pitching to shooting, producing, scriptwriting, narrating and editing. So join the revolution. REGISTER today for the next Video Journalism Workshop With Bill Gentile and get your free manual on Day 1 of the four-day event.
Learn how to use the power of visual information. Learn to use hand-held digital cameras to document and to change the world you live in. Learn a new language and participate in the international dialogue that is visual communication. Learn how to make powerful television and web productions, to tailor your work for greatest impact, to package your presentation and to mold your message for major broadcasters and Internet outlets. This is the language of YOUR generation. The visual language. With this Field Manual and my Backpack Video Journalism Workshop, you learn the language and how to use it.
Here's what we cover on Day 1 of the four-day workshop:
Introductions and objectives.
Clips to Sequence to Scene to Story – the final objective.
Basic elements of a new language: XCU to XWA.
The Six-Shot System: Demonstration.
Composition: The deliberate arrangement of elements in your images.
The Rule of Thirds and Multiple Planes.
Gentile's Shooting Rules.
Introduction to editing and how it relates to the new language.
Characters and The Sequence. Casting a wide net.
Proposals, Titles and The Controlling Idea.
Selected films and critique by Bill Gentile.
My Backpack Video Workshops are for beginners with some experience as well as more seasoned practitioners who want to sharpen their skills and acquire new ones. We welcome photojournalists making the transition to film and video, print journalists seeking to expand their skills, broadcast journalists, video journalists, documentarians, filmmakers and independent storytellers.
TOMORROW: Summary of Day 2 of my four-day workshop.
— Bill Gentile.