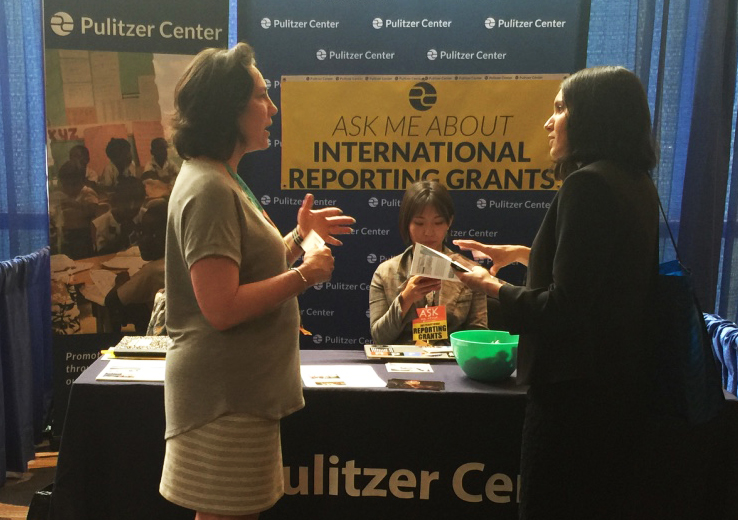 MIAMI, 21 July 2018 – One of the nation's leading support groups for journalists, the Pulitzer Center on Crisis Reporting maintained an information table at the four-day convention of the National Association of Hispanic Journalists (NAHJ) held this year in Miami, Florida.
In this image, Ann Peters (L) fields questions from a visitor. Peters is the university and community outreach director at the Pulitzer Center, which is based in Washington, DC. At the desk is Jin Ding, the Center's marketing coordinator.
The Pulitzer Center defines itself, in part, as "an innovative award-winning non-profit journalism organization dedicated to supporting in-depth engagement with underreported global affairs through our sponsorship of quality international journalism across all media platforms and a unique program of outreach and education to schools and universities."
The Center is just one component of a burgeoning movement to support journalists, especially those working abroad. Other members of that movement include Reporters Without Borders, The Groundtruth Project, the International Center for Journalists (ICFJ) and Reporters Instructed in Saving Colleagues (RISC).
American University's (AU) School of Communication (SOC) now belongs to the Center's Campus Consortium, a partnership that I spearheaded in 2014. Since then, we have co-sponsored International Reporting Fellowships for AU students traveling to Thailand, Mexico, Borneo, Laos, Colombia and Peru.
These fellowships represent an extraordinary opportunity for students to meet and to join the Center's international network of seasoned professionals, to take on challenging stories abroad, to add compelling print, photo, video and audio components to their body of work, and to disseminate their work through the Center and its media partners around the world.
The Center maintained an information table during the July 18-21 event because, for working journalists, aspiring journalists, journalism teachers or just anyone interested in the craft of journalism, the 2018 convention NAHJ was the place to be.
The largest and most important organization of its kind, the NAHJ "is dedicated to the recognition and professional advancement of Hispanics in the news industry," according to its mission statement. The NAHJ includes some 2,000 members, including "working journalists, journalism students, other media-related professionals and journalism educators."
Earlier this year, I helped launch the DC student chapter of the NAHJ – the first of its kind in the nation's capital. I work alongside other faculty, staff and students to make our institution look more like our nation's population at large. And we are making impressive progress. Of the total number of students entering American University in fall 2017, about 14 percent were Hispanic – higher than ever before.
As the faculty advisor to the new chapter, I'll be doing my utmost to ensure that AU's School of Communication maintains an information table and a presence at next year's convention in San Antonio, Texas.
(Photo by Bill Gentile)