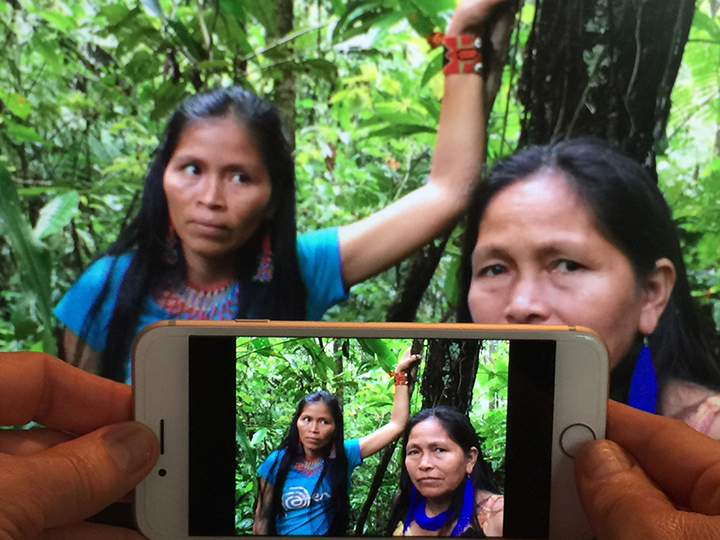 WASHINGTON, DC, 7 November 2016 — This is where we are today. As I did just last year in the Ecuadoran Amazon, we can now use cell phones to make high-definition documentaries with an absolute minimum of gear. (To see the film I made with an iPhone in the Amazon, click HERE.) The key is to understand both the capabilities and the limitations of any equipment. This enables us to take advantage of the capabilities and to work around the limitations. And this is what you learn in my Backpack Video Journalism Workshop.
So, to a large degree, it's about your skills. Not your gear.
We've come such a loooong way. From the days of faxes to send dispatches and telephone lines to send black and white photographs. I began in 1977 as reporter for the Mexico City News and correspondent for United Press International (UPI) based in Mexico City. I covered the 1979 Sandinista Revolution in Nicaragua. I spent two years as editor on UPI's Foreign Desk in New York, then moved to Nicaragua and became Newsweek Magazine's Contract Photographer for Latin America and the Caribbean. My book of photographs, "Nicaragua," won the Overseas Press Club Award for Excellence. I covered the U.S.-backed Contra War in Nicaragua and the Salvadoran Civil War in the 1980s; the U.S. invasion of Panama; the 1994 invasion of Haiti, the ongoing conflict with Cuba, the 1990-91 Persian Gulf War and the subsequent wars in Iraq and Afghanistan. I also worked in Ivory Coast, Guinea, Sierra Leone, Chad, Angola, Rwanda and Burundi.
In 1995 I went to work for Video News International (VNI), precursor of The New York Times Television Company. I've completed assignments for The Learning Channel, the Discovery Channel, National Geographic Television, ABC's Nightline With Ted Koppel, NOW With Bill Moyers, NOW hosted by David Brancaccio, Court TV and Lion TV.
It is this kind of experience that I bring to my Backpack Video Journalism Workshops, not just in Washington, DC, but also in countries all over the world. I have conducted video workshops and presentations in the United States, Mexico, Colombia, Guatemala, Nicaragua, El Salvador, Panama, Uruguay, Venezuela, Suriname, Thailand, Ghana, Cuba and the former Soviet Republic of Georgia, for the U.S. Department of State, the Thomson Reuters Foundation, the Thai Broadcast Journalist Association (TBJA), the International Center For Journalists (ICFJ), American University's Center for Latin American and Latino Studies (CLALS), and others.
Learn to speak the visual storytelling language that connects us all to even the most remote corners of the world. Join us on December 8-11 — that's next month — for my four-day Backpack Video Journalism Workshop. Click HERE for details.
As promised, here's what we will cover on Day 3 of the workshop:
More Titles and Controlling Ideas.
View "Nurses Needed" and discuss characters that embody editorial points.
Editing and "the creative treatment of reality."
View "Underground Yoga" and "Knife and Gun Club" as editing models.
Aesthetics vs. mechanics.
The script: Writing to pictures.
Narration, the third dimension of "three-dimensional chess."
You can register for the event HERE.
As always, please contact me with questions.
— Bill Gentile