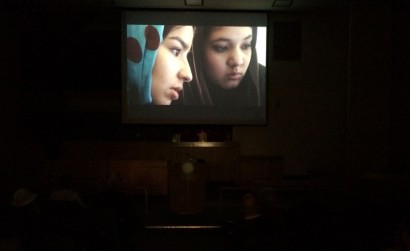 PITTSBURGH, PA, 29 April 2015 — Two of the central characters in our film, "Afghan Dreams," shine in a darkened theater at the University of Pittsburgh School of Law. Our documentary follows four young Afghan women competing in the world's most important contest of international law, the Vis Moot East. The contest is held each year in Hong Kong.
"This is the second half of your job." That's what I tell students working on documentary films about the promotion of their work once it is finished. And this is nearly as important as the film making process itself. You have to be "out there, with every means possible," getting people to look at your work. It's not easy. I use every means possible. My web site and blog. Facebook. Twitter. LinkedIn. Aweber. Word of mouth.
Get it out there. It's the second half of your job.
Below, the sun sets over my home city after the screening.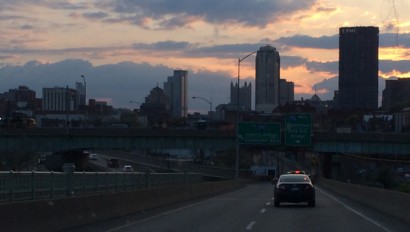 (Photos by Bill Gentile.)