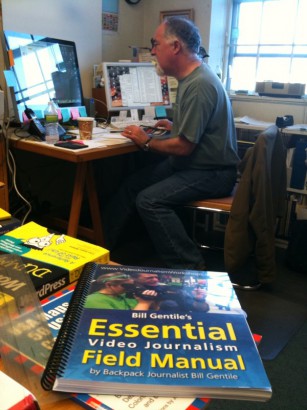 NORWOOD, MA, 13 October 2012 — Designer and Internet marketer Bruce Jones, at his office in Norwood, Massachusetts, begins a weekend dedicated to the completion of "'Bill Gentile's Essential Video Journalism Field Manual,' by Backpack Journalist Bill Gentile."
Listed as a required text for my "Backpack Documentary" course of Spring 2013, the book should be ready for distribution later this year. Bruce, who attended my first Backpack Journalism Workshop in 2008, has been a key component of the book's development. He also has become a regular participant in my Video Journalism Workshops.
For more information on the workshops, click HERE.