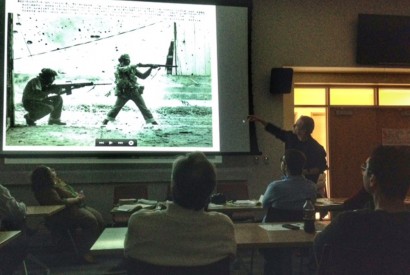 WASHINGTON, DC, 14 October 2014 — I showed the progression of my work from black and white still photos to high definition documentaries at a function at American University's School of Communication (SOC). My presentation was part of the panel discussion, "A Decade of Documentary Filmmaking in DC."
The event was presented by Docs In Progress and Our City Film Festival in collaboration with Women in Film and Video-DC, and the SOC.
The discussion was moderated by Sam Meddis, adjunct professor at American University and George Mason University. In addition to myself, panelists included Erica Ginsberg, Co-Founder and Executive Director of Docs in Progress; Kiley Kraskouskas, Co-Founder and President of Thinking Forward Media; and Jeff Krulik, documentary filmmaker in the DC area since the mid-1980s.
(Photo by Esther Gentile.)