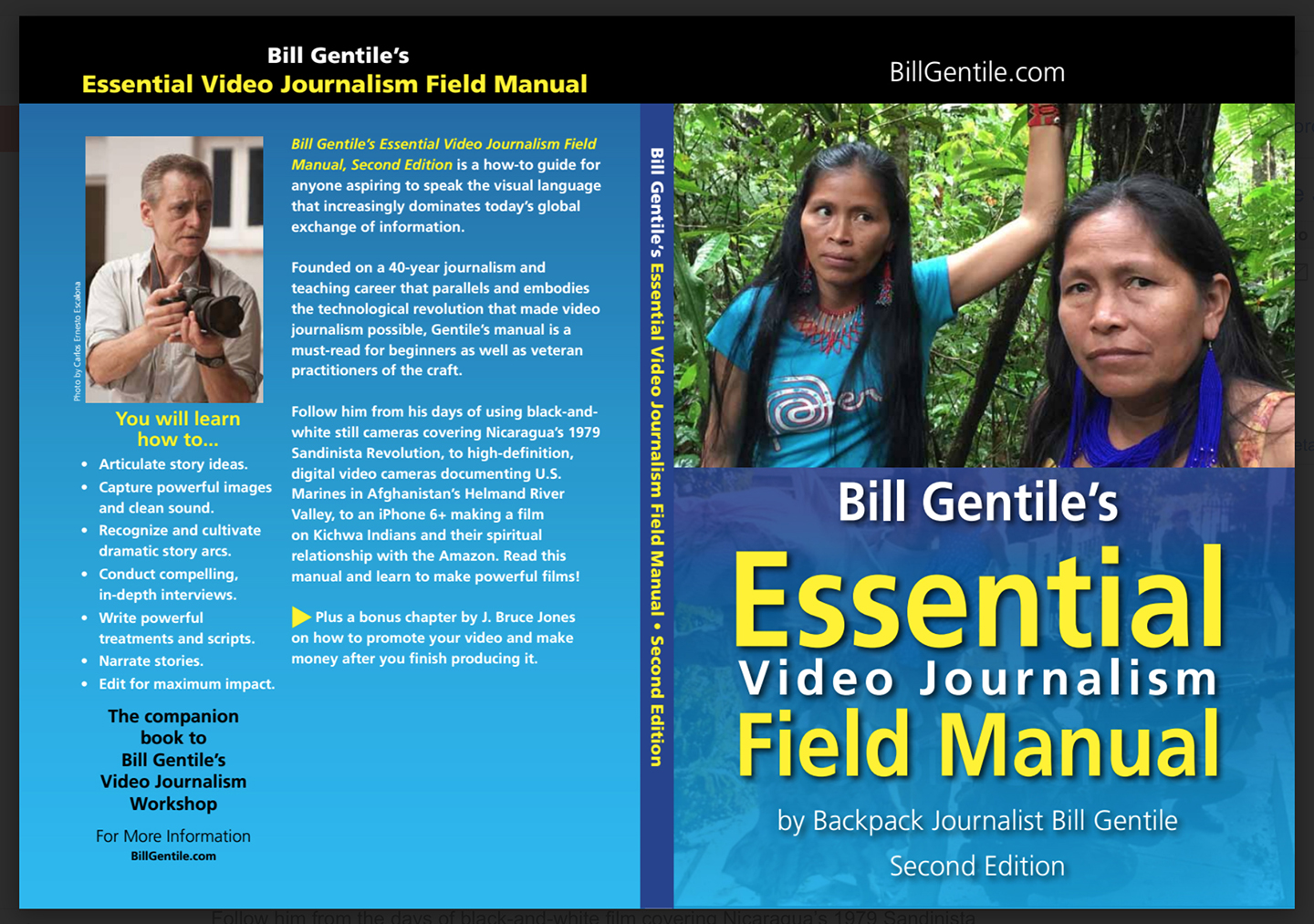 WASHINGTON, DC, 6 November 2016 — In addition to a FREE copy of my Essential Video Journalism Field Manual, here's what you get at my Backpack Video Workshop on December 8-11:
Day 2
Present Title and Controlling Idea.
Opening scene. Closing scene.
Production Schedule.
Dramatic Arc.
View "Voice of Hope" as example of multiple dramatic arcs.
"Participatory Observation:" Engage your subjects.
Formal and Informal interviews.
Gentile's Interview Rules.
More on editing.
Logs, Scripts and Treatments.
Sound: The Heartbeat of Documentary.
My Backpack Video Workshops are for beginners with some experience as well as more seasoned practitioners who want to sharpen their skills and acquire new ones. We welcome photojournalists making the transition to film and video, print journalists seeking to expand their skills, broadcast journalists, video journalists, documentarians, filmmakers and independent storytellers.
I've conducted my Backpack Video Workshops and presentations (http://videojournalismworkshops.com/live)  and presentations in the United States, Mexico, Colombia, Guatemala, Nicaragua, El Salvador, Panama, Uruguay, Venezuela, Suriname, Thailand, Ghana, Cuba and the former Soviet Republic of Georgia, for the U.S. Department of State, the Thomson Reuters Foundation, the Thai Broadcast Journalist Association (TBJA), the International Center For Journalists (ICFJ), American University's Center for Latin American and Latino Studies (CLALS), and others. All have been widely acclaimed.

And the Field Manual is a compilation of the lessons that I've acquired during 40 years of experience in the field. I began in 1977 as reporter for the Mexico City News and correspondent for United Press International (UPI) based in Mexico City. I covered the 1979 Sandinista Revolution in Nicaragua. I spent two years as editor on UPI's Foreign Desk in New York, then moved to Nicaragua and became Newsweek Magazine's Contract Photographer for Latin America and the Caribbean. My book of photographs, "Nicaragua," won the Overseas Press Club Award for Excellence. I covered the U.S.-backed Contra War in Nicaragua and the Salvadoran Civil War in the 1980s; the U.S. invasion of Panama; the 1994 invasion of Haiti, the ongoing conflict with Cuba, the 1990-91 Persian Gulf War and the subsequent wars in Iraq and Afghanistan. I also worked in Ivory Coast, Guinea, Sierra Leone, Chad, Angola, Rwanda and Burundi.
Seating for the December workshop is limited, so click HERE to register now.
TOMORROW: Summary of Day 3 of my four-day workshop.
— Bill Gentile.