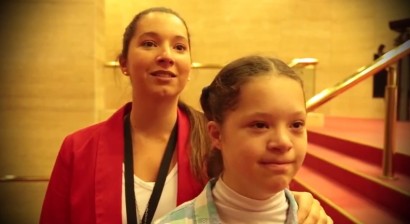 WASHINGTON, DC, 21 December 2013 — This is the essence, the very core, the embodiment of what can be achieved with visual communication. It is the confluence of passion and technology. It is everything that communication can be. It is what I teach my students and it is what I, myself, aspire to. It is called Ikusi.
Pictured is Valentina Quagliotti, a Uruguayan exchange student at American University in 2010. On the right is Valentina's younger sister, Agustina. When I met Valentina, her non-profit, Ikusi, still was only a dream, a dream about making positive social change with video. Today it is a reality, and I'm privileged to say that I've just returned from Uruguay where I conducted a Video Journalism Workshop and a number of presentations, on behalf of Valentina's non-profit. The trip was organized by Valentina and funded by the U.S. Embassy in Montevideo.
Valentina just published her group's video report for 2013. To see it, click HERE.
At the end of the video you'll see the group's logo and slogan: "See, Tell, Change." And that's exactly what she's doing.
She inspires me.