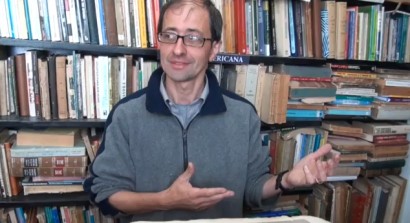 MONTEVIDEO, Uruguay, 14 December 2013 — This is the final video produced by Pablo Castro at my Backpack Video Journalism Workshop in Montevideo. It's about a slightly eccentric bookseller in the nation's capital.
It's also about visual style, narration and musical background, all unique and defining characteristics of Pablo's film. All of them combine to move the film from beginning to end. Click HERE to see the video.
The five-day workshop was organized by Valentina Quagliotti, an exchange student at American University in 2010. Valentina is the founder of Ikusi, a non-profit dedicated to making positive social change with video. My trip to Uruguay was funded by the U.S. Embassy in Montevideo.
Pablo used a not-too-expensive palmcorder to make his video. My central message to all participants in these workshops is that, regardless of the devices they use to make their videos, they have access to some of the most powerful tools in the history of mankind. And these are the digital cameras and the Internet. Never before have we been able to communicate instantly, globally and in a language, the visual language, to connect, to motivate and even to earn — until now.