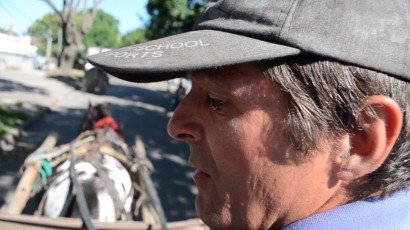 http://videojournalismworkshops.com, WASHINGTON, DC, 23 December 2013 — During my recent Video Journalism Workshop, Juan Gari produced this film about one of the many recyclers working the streets of the Uruguayan capital in horse-drawn carriages.
You can watch Juan's film HERE.
Like many of his colleagues, Juan used an HDSLR. The benefits of using these cameras include the fact that they are small and not very intrusive. Their downside includes their limited capability to capture good sound. Having said that, Juan did a good job of defeating the camera's weakness by capturing sound at close range and by selecting appropriate angles he used to capture it.
The five-day workshop was organized by Valentina Quagliotti, an exchange student at American University in 2010. Valentina is the founder of Ikusi, a non-profit dedicated to making positive social change with video. My trip to Uruguay was funded by the U.S. Embassy in Montevideo.
One of my central messages to all participants in these workshops is that, regardless of the devices they use to make their videos, they have access to some of the most powerful tools in the history of mankind. And these are the digital cameras and the Internet. Never before have we been able to communicate instantly, globally and in a language, the visual language, to connect, to motivate and even to earn — until now.
http://videojournalismworkshops.com